MATURATION STATEMENT
MUST BE A MINIMUM OF 18 YEARS AGED
Please enter a valid date.
DUPPY SERVES
Previous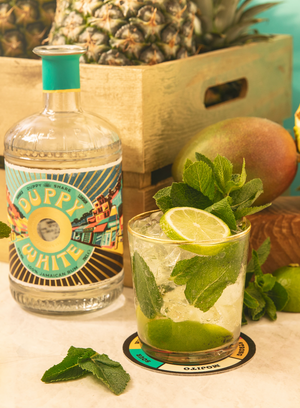 WHITE SERVE
The Duppy White Mojito
The Duppy White Mojito
Arguably the best way to start an evening is with a delicious Mojito. The zing of the lime, the freshness of the mint, and the punch of Duppy White come together over the bubbles of soda. Here's how you can make some for yourself and some friends… best served shared!
What you need
60ml Duppy White
Juice of 1 lime
Handful of Mint leaves
Soda water
1tsp of granulated sugar
Step 1 - Muddle the lime juice, sugar and mint leaves in a small jug, crushing the mint as you go. Pour into a tall glass and add a handful of ice.
Step 2 - Pour over the rum, stirring with a long-handled spoon. Top up with soda water, garnish with mint and serve.
Next