MATURATION STATEMENT
MUST BE A MINIMUM OF 18 YEARS AGED
Please enter a valid date.
DUPPY SERVES
Previous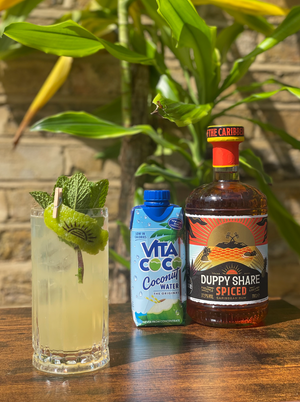 SPICED SERVE
Happy World Cocktail day!
Happy World Cocktail Day! We might be slightly biased, but we are sure you'll agree the 'It's 5 O'clock somewhere' rule goes out the window today… wherever you are, whatever the time is, it's perfectly acceptable to enjoy a delicious cocktail at any point of the day. 
We all love a cocktail, but how much do we really know about the history behind mixology? The first known cocktail was the Sazerac and was invented by Antoine Peychaud in the mid-1800s. Since then, thousands of cocktails have been created by bars, restaurants, and cocktail enthusiast. However, there are only actually 77 recognised cocktails that are selected for use in the annual World Cocktail Competition for bartending.
These 77 cocktails all differ, although the one similarity is that they are all developed around the balance rule. You could be combining the three most popular flavours in the world, but if they don't balance your drink will not work. This balance comes between the elements of alcoholic strength, sweetness, sourness, bitterness, saltiness, temperature, and texture.
This World Cocktail Day, we're choosing to cheers with our friends over at Vita Coco for the ultimate coconutty cocktail collab… with balance in mind! If you haven't been hiding under a rock, or shall we say coconut, you may know them as part of your meal deal or the main character in your smoothie. However, we can confirm that it slaps in a cocktail, it might not be internationally recognised, but this cocktail offers a unique flavour which guarantee to tantalize your tastebuds.
If you fancy trying it for yourself, here's the recipe for the CocoDup'd cocktail…
Ingredients:
50ml Duppy Share Spiced Rum
20ml Vita Coco
10ml Lime Juice
10ml Sugar Syrup
Top with Soda
Garnish: mint sprig and lime peel
Add 50ml Duppy Spiced, 20ml Vita Coco, 10ml Lime and 10ml Sugar Syrup to a shaker tin filled ¾ with cubed ice. Shake well, top with soda and add a mint sprig and lime peel garnish.
Next